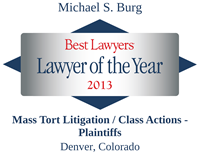 Founder/Shareholder
303.792.5595 (Colorado office)
3/25/15: Michael Burg on Ring of Fire discusses the recent findings of dangerous levels of inorganic arsenic in low cost wines, which were knowingly marketed by dozens of California wineries.
12/7/14: Michael Burg speaks with Mike Papantonio on Ring of Fire TV about big box stores such as Wal Mart and the war over fair wages.
07/27/14: Citigroup just paid a multi-billion dollar settlement after an investigation into potential criminal activities from banks. Mike Burg explains why it isn't good enough.
A veteran of over 175 jury trials as lead counsel, Michael S. Burg has obtained thirteen verdicts in excess of $1 million. He has obtained in excess of $500 million for his clients through settlements, judgments, and verdicts.
Mr. Burg has been named among America's 50 Leading Trial Lawyers by The Legal 500, 2012, 2013 and 2014. He is also acknowledged as a Leading Lawyer nationally, when it comes to representing individuals in Pharmaceutical Mass Tort and Class Action Litigation. Published for over twenty seven years, The Legal 500 series is a worldwide guide of legal services providers in over 100 countries, and widely regarded as offering the definitive judgment of law firm capabilities. Mr. Burg has also been named 2013 Denver "Lawyer of the Year" For Mass Tort Litigation / Class Actions – Plaintiffs by Best Lawyers® in America.
Mr. Burg was admitted to the Colorado Bar in 1976 and founded Burg Simpson in 1977. Today, Burg Simpson comprises more than 50 attorneys with offices in four states.
On October 10, 2013, Michael S. Burg was presented with the Clarence Darrow Award at the Bellagio Hotel in Las Vegas. The Darrow Award is nationally regarded as one of the most prestigious and highly coveted in the realm of trial law. Clarence Darrow, a trial lawyer and leading member of the American Civil Liberties Union, was renowned for moving juries and even judges to tears with his eloquence and, at the time unconventional views.
---
Judicial Appointments
The Honorable Jack Weinstein, United States District Judge, Eastern District of New York – Plaintiff Steering Committee for the Zyprexa Multi-District Litigation;
The Honorable Eldon Fallon, United States District Judge, Eastern District of Louisiana – State Liaison Committee for the Vioxx Multi-District Litigation;
The Honorable David A. Katz, United States District Judge, Northern District of Ohio – Co-Lead Counsel, Ortho Evra Products Multi-District Litigation;
The Honorable David Herndon, United States District Judge for the Southern District of Illinois – Co-Lead Counsel, Yaz/Yasmin Multi-District Litigation.
---
Practice Areas
---
Bar Admissions
Colorado
Nebraska
U.S. District Court, District of Colorado
U.S. Court of Appeals, 10th Circuit
U.S. Supreme Court
---
Education
J.D.,1975, The University of Denver Sturm College of Law
B.A.,1972, University of Denver
---
Honors & Awards
Clarence Darrow Award, 2013
Top 100 Most Influential Attorneys, The National Trial Lawyers
Top 100 Attorney, The National Trial Lawyers
Outstanding Allumni Award, University of Denver Sturm College of Law, 2013
America's 50 Leading Trial Lawyers, The Legal 500, 2012, 2013 and 2014
Recommended Attorney, Mass Tort, The Legal 500, 2012, 2013 and 2014
Denver Business Journal Power Book, 2011, 2013
Lawyer of the Decade, Colorado Law Week, 2000-2010
President, National Trial Lawyers, 2010
National Trial Lawyers, Executive Committee, 2009
Colorado Super Lawyers®, 2006 – 2013 and Top 100 Super Lawyers® 2014
"Best of the U.S." 2006 – 2011
Best Lawyers® in America, 2007 – 2015
Best Lawyers® "Lawyer of the Year 2013," Mass Tort Litigation / Class Actions – Plaintiffs, Denver
Litigation Star, Benchmark Litigation, United States – Plaintiff, Mass Tort/Product Liability, 2013
Local Litigation Star, Benchmark Litigation, Colorado – Plaintiff, 2012 and 2013
Barrister's Best, Overall Litigator, Colorado Law Week, 2010
Barrister's Best, Personal Injury, Colorado Law Week, 2009 – 2011
Barrister's Best, Mass Tort Lawyer, Colorado Law Week, 2011 and 2012
Colorado Lawyer of the Year, Colorado Law Week, 2008
AV Preeminent Rating, Martindale-Hubbell
President's Club, American Association for Justice
Wiedemann and Wysocki Award, American Association for Justice, 2014
Heavy Lifting Award, American Association for Justice, 2011
---
Other Appointments and Accomplishments
Appointed to the Colorado Supreme Court Nominating Commission, 2014, by the Governor of the State of Colorado, the Colorado Attorney General, and the Chief Justice of the Colorado Supreme Court
Advocate, American Board of Trial Advocates
Co-Lead Counsel, Investor Litigation, Collateralized Debt Obligation Litigation
Adjunct Professor; University of Denver Sturm College of Law, 1995 to present
Life Fellow, American Board of Trial Advocates
Sustaining Fellow, Roscoe Pound Institute
Board Member, Mizel Museum
Sponsor, Study Hall at University of Denver
Sponsor, Moot Court Trial Room at University of Wyoming
---
Professional Affiliations
The Melvin M. Belli Society
The National Trial Lawyers
Colorado Trial Lawyers Association (CTLA)
Colorado Bar Association
Denver Bar Association
Arapahoe County Bar Association
Fellow Emeritus of the Arapahoe County Bar Foundation
American Association for Justice (AAJ)
Member, Presidents Club (AAJ)
Member, Plaintiff Steering Committee for Zyprexa Multidistrict Litigation
Member, State Liaison Committee For Vioxx Multidistrict Litigation
Co-chair, Zyprexa Litigation Group for the American Association for Justice (AAJ)
Plaintiffs' Co-lead and Liaison Counsel in the Ortho Evra Products Liability Multidistrict Litigation
Co-Lead Counsel, Plaintiffs Steering Committee in the Yasmin and Yaz (Drospirenone) Marketing, Sales Practices and Products Liability Litigation
American Board of Trial Advocates (ABOTA)
Fellow, Litigation Counsel of America
---
Civic and Community Involvement
Craig Hospital
Ali Meyer Foundation
Kaps for Kendall
Toys for Tots
Habitat for Humanity
Denver Bar Association Community Action Network
Colorado Symphony Orchestra
---
Lectures and Seminars
Referrals and Networking for the Future; January, 2014
Voir Dire: The New Goals in 2014 and How They Differ From the Old Goals; January, 2014
Roadmap of a Mass Tort: Lessons Learned and Strategies for the Future; September, 2013
How to Choose Your Next Mass Tort. September, 2013
Punitive Damages; June, 2013
Commercial Litigation Update; October, 2012
Presenting to the Defense and the Jury; June, 2012
Direct and Cross Examination of Life Care Planners; April, 2012
National Trial Lawyers Summit – Flourishing in the Age of Tort Reform: A Brainstorming Session; January, 2012
Panel Member; Judicial Forum on Mass Torts; January, 2012
Defining Mental Anguish; September, 2011
Moderator – Civil Court Judicial Forum: Advanced Discovery & Trial Practice; Denver, Colorado; May, 2009 and October, 2010
Trial of the Plaintiff Personal Injury Case; September, 2010
Statutes Which Affect Liability Evaluation in Personal Injury Actions; September, 2010
PI Litigator's Summit; Las Vegas, Nevada; March 7-9, 2010
The Plaintiff Practice Goes Green; Maximizing the Value of Your Cases and Your Practice. Napa, California; September 19-20, 2010
The Art of Negotiation. What Makes Some Lawyers Poor Negotiators and Other Lawyers Superb Negotiators. The Art, Science and Skill of Mastering Negotiation Methods in Order to Maximize the Benefit for your Clients. April, 2010
The Challenge of Proving "Physical" and "Mental" Pain and Suffering; February, 2010
How to Get the Big Verdict (Personal Injury, Product Liability, and Commercial); October, 2009
Snow Skiing and Other Head Injury Cases; February, 2009
The Collapse of Wall Street and What Only Trial Lawyers Can Do About It; February, 2009
If You Build It They Will Come. The Steps to Building a Successful Law Firm. Various presentations – 2009 to present
Florida Justice Association: 2008 Workhorse Seminar; Orlando, Florida; February, 2008
Moderator – What Civil Court Judges Want You to Know; Denver, Colorado; June, 2008
How and Why Economic Damages Drive a Case; September, 2008
Proof and Argument of Damages: Wrongful Death Cases; September, 2008
Obtaining the Best Settlement for Personal Injury Clients; Denver, Colorado; March, 2007
Pharmaceutical & Human Tissue Litigation Conference; Charleston, South Carolina; June, 2006
Plaintiff's Personal Injury: Practice Tips and Application; October, 2006
Faculty; Emerging Drugs Conference; Chicago, Illinois; October, 2006
Trying the Pharmaceutical Case; Pharmaceutical Litigation 101; New Orleans, Louisiana; June, 2005
Practical Aspects of Being a Trial Lawyer; Sturm College of Law; February, 2005
Faculty Member; Trends and Hot Topics in Phamaceutical Litigation; Las Vegas, Nevada; September, 2005
Pharmaceutical Torts Cases in Colorado: Ethical Consideration for Practitioners; Denver, Colorado; November, 2005
Drug Litigation Conferences; Zyprexa Litigation; November, 2004
Advanced Expert Witness Deposition Tactics in Colorado; 2002
Successfully Presenting the Complex Case to a Colorado Jury; 2001
---
In the Media
3/19/2015: On March 19, 2015 Burg Simpson filed a lawsuit in California Superior Court alleging that certain California wineries are violating state law by knowingly producing, marketing and selling arsenic contaminated wine and failing to warn consumers about the potential danger. Michael Burg, along with shareholder David TeSelle, represent Burg Simpson at the press conference held announcing this lawsuit.
Anatomy of a Personal Injury Lawsuit Co-Author – Chapter 29, Damages: Punitive Damages. February 2015.
12/7/14: Michael Burg speaks with Mike Papantonio on Ring of Fire TV about big box stores such as Walmart and the war over fair wages.
7/27/14: Michael Burg and Ring of Fire guest host Farron Cousins discuss the multi-billion dollar Citigroup settlement after the Obama administration began investigating potential criminal activities from banks.
6/26/14: In a Ring of Fire interview, Michael Burg explains why the Department of Justice continues to fail to protect consumers from financial fraud.
6/2/14: Corporate America turns their profit, but burns the average citizen on taxes. Ring of Fire's Mike Papantonio and Michael Burg explain.
4/8/14: Ring of Fire guest host Farron Cousins and Michael Burg discuss fraud within the largest mortgage servicing company in the country.
4/4/14: Michael Burg discusses the motives behind voter supression in the upcoming election on the latest Ring of Fire segment.
11/04/13: Recently, President Obama weakened the rules for defense contractors, and they are now allowed to sell deadly weapons to countries that are less than friendly to the United States. Michael speaks on Ring of Fire about it.
10/10/13: Michael S. Burg was recently presented with the Clarence Darrow Award at the Bellagio Hotel in Las Vegas. Watch Mike's acceptance speech.
9/26/13: America is starting to resemble a banana republic. Michael speaks with Ring of Fire host Mike Papantonio about it.
9/17/13: Michael speaks on Ring of Fire about the de-evolution of the GOP.
8/27/13: Michael speaks with Ring of Fire host Mike Papantonio and attorney Howard Nations about how labor unions could have prevented worker deaths and other atrocities all over the world.
8/19/13: The Republican Party is suffering from a severe identity crisis, but rather than trying to solve their problems, they've decided to attack members of their own party.
8/11/13: Wall Street is raking in billions by manipulating the commodities market, and Michael S. Burg shares the details about that scam on Ring of Fire Radio.
6/28/13: The effects of corporate money are just as apparent in the judiciary as they are in the other branches of our government. Ring of Fire guest host Farron Cousins discusses this with attorney Michael S. Burg.
6/10/13: The drug industry has evolved into one of the most corrupt and dishonest industries in America. Michael S. Burg speaks on the Ring of Fire Radio show.
5/16/13: Michael S. Burg speaks with Mike Papantonio and Joe Crotchett about what corporate money is doing to academic research.
5/13/13: Law Week Colorado Top 10 Colorado Jury Verdicts: Michael S. Burg talks about a personal injury case involving an injured gas worker.
5/08/13: Billionaire Koch Brothers are trying to buy media outlets across the country. Michael S. Burg discusses the dangers with Mike Papantonio and Howard Nations.
4/24/13: Ed Schultz Show: Michael S. Burg talks about the dangerous gambling on Wall Street that's putting the public's money at risk.
4/21/13: Michael S. Burg talks about the threat that derivatives and other Wall Street "garbage" poses to our savings accounts.
4/10/13: People don't understand how important unions are to this country. Watch Michael S. Burg speak on the Ring of Fire TV show.
4/2/13: Watch Michael S. Burg speak with Mike Papantonio about how Big Pharma is ripping off the Federal Government.
3/25/13: Watch Michael S. Burg speak with Mike Papantonio about immunity afforded to the makers of generic pharmaceutical drugs and the role of the FDA.
3/12/13: Ed Schultz Show